WYDE Voice conference bridges are designed on the "Datacenter in a box" concept, which means that they can be deployed quickly with minimal technical resource. The platform is virtually "plug and play".
"Datacenter in a box" deployment consists of installing the specified conference hardware which is then configured for use in that conferencing telephony communications solution. The primary hardware that is being used is WYDE platforms – the SB-HD1000 and the SB-HD10000 conferencing bridges. WYDE conference bridges are designed to be attached to your network in appliance-fashion. They are, for all intents and purposes, servers that can be installed and managed as such.
We have deployed the platform in multiple countries to date and the average time taken from placement of an order to a fully functional conference service is typically less than one month for the SB-1,000 and less than two months for the SB-10,000.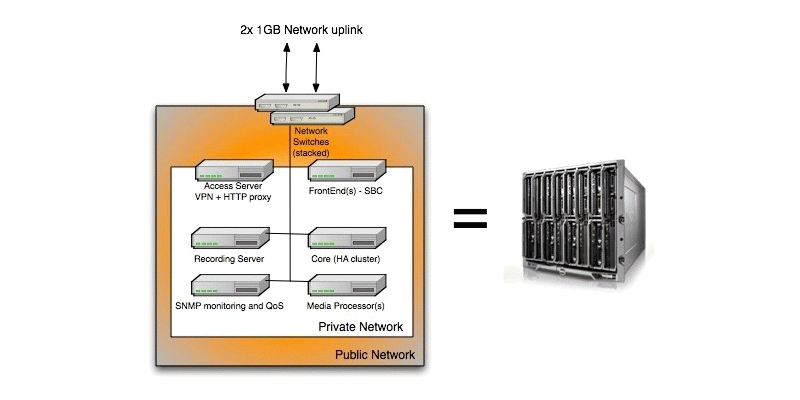 The following characteristic features are distinctive for a "Datacenter in a box" WYDE bridge deployment:
All-in-one datacenter for 1,000-10,000 simultaneous conference calls
10U enclosure, 7KW power consumption (full load), redundant 1GB uplink to the VoIP GW (for 10,000 calls)
High level of redundancy

16 individual hot-swappable blades
2x1GB Layer 3 network switches
6 (N+N) power supplies
9 (N+N) fan modules

Remote management and SNMP based monitoring
View our Product Page for more information.